The Gutz are:
Jeremy Tucker-Vocals/Guitar
Jesus Lopez- Bass/Vocals
Sean James- Drums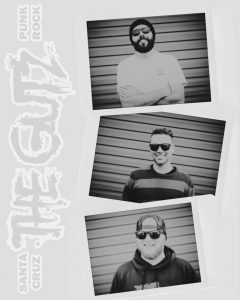 The Gutz are a 3-piece melodic hardcore punk rock band, formed in 2012 in Santa Cruz, Ca.
With multifaceted song arrangements, The Gutz create an eclectic variety of songs inspired by bands such as The Clash as well as hardcore pioneers Bad Brains, accompanied with dark tones reminiscent of bands like early TSOL, coupled with the traditional punk rock elements of bands like Swingin' Utters & Cock Sparrer.
New Noise Magazine quotes "their brand of melodic heartfelt punk is downright addictive."
Catch us on the road and online!